Amanda Holden and Ashley Roberts Turn Heads in Chic Outfits on the Way to Heart FM
Amanda Holden and Ashley Roberts, the dynamic duo known for their daily fashion displays on the Heart FM Breakfast Show, continued to make style statements during their Wednesday morning walk through London's bustling Leicester Square.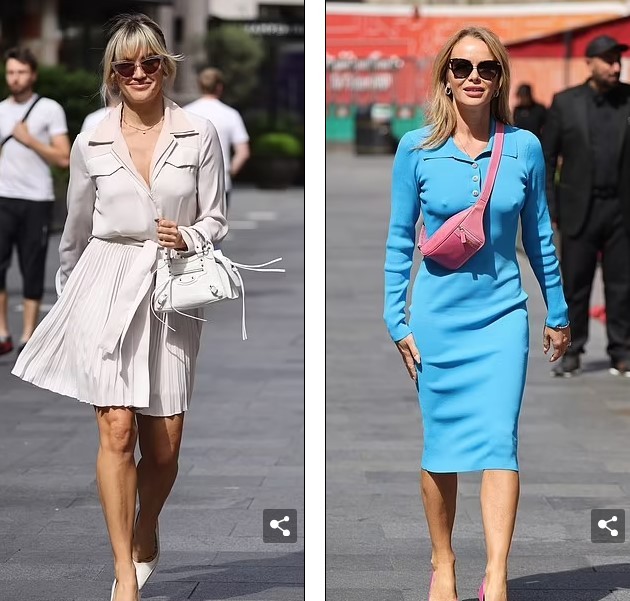 Amanda Holden, the vivacious 51-year-old television personality, effortlessly commanded attention in a striking bright blue dress. Her outfit, perfectly tailored to her lithe figure, made her stand out in the bustling city. Not content with a single pop of color, Amanda sported bright pink shoes that further accentuated her eye-catching ensemble. A matching bag slung across her chest added a hint of glamour to her look. Amanda's decision to forgo a bra and her choice of a mid-length dress allowed her to showcase her long legs. Her flowing caramel-colored tresses cascaded down her shoulders, and she completed her look with a pair of chic shades.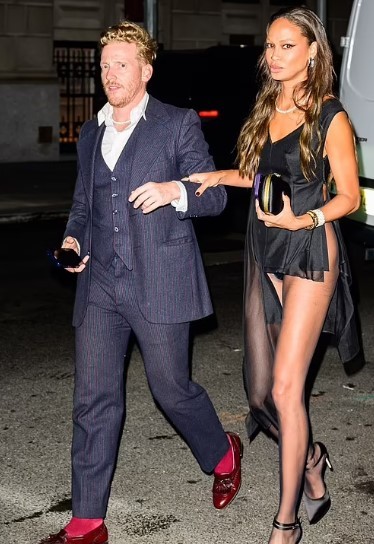 Her companion, Ashley Roberts, looked equally stylish in her shirt-style dress. The dress featured a pleated skirt and a belt that emphasized her slender waist. Ashley, at 40, continues to exhibit a keen sense of fashion and style. In true fashionista fashion, she coordinated her accessories to perfection, choosing white heels and a matching handbag. Shielding her eyes from the sun with a pair of cat-eye sunglasses, Ashley pulled her blonde locks into an elegant ponytail.

The duo's morning stroll was punctuated by a Marilyn Monroe moment, as a gentle breeze playfully lifted Ashley's white skirt. Such fashion-forward moments have become a hallmark of their daily commutes to Heart FM.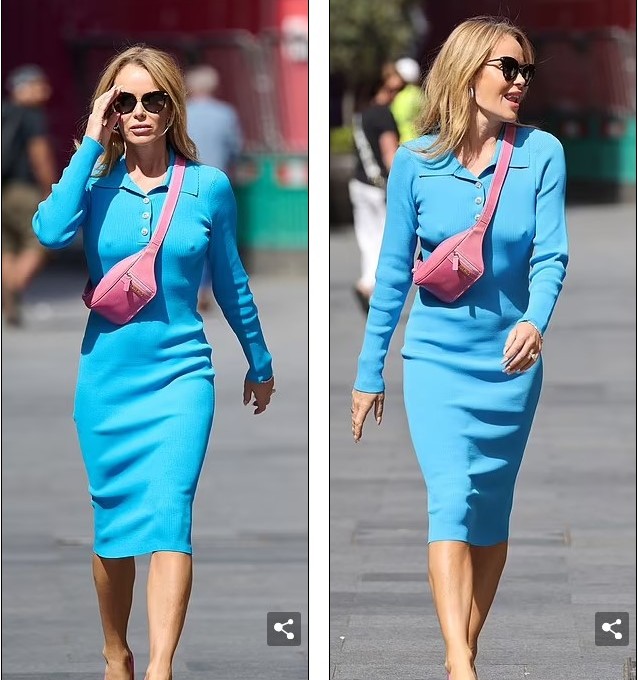 Amidst their chic and stylish outing, news broke that Amanda Holden is putting her Surrey home on the market for a whopping £5 million. The stunning five-bedroom residence, which Amanda purchased seven years ago for £3.5 million, has undergone a dazzling transformation under her stewardship, and she is now hoping to make a tidy £1.5 million profit.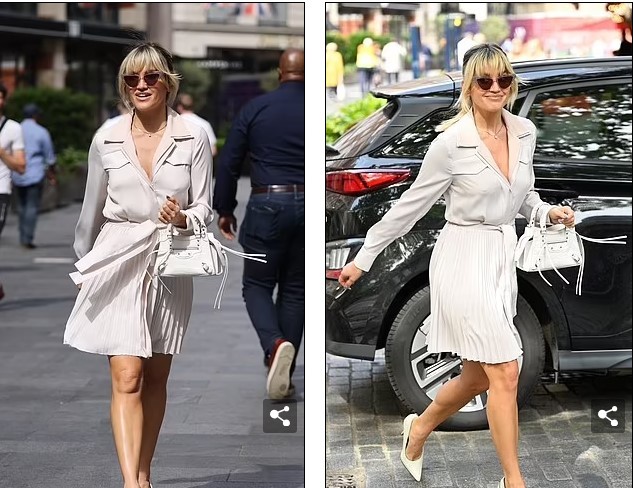 The luxurious property, available for £5 million, boasts numerous amenities that provide the perfect blend of comfort and glamour. From a personal bar and a spacious 30ft by 27ft living room to a sleek kitchen diner and an inviting hot tub, Amanda's home reflects her unique style and design choices. Notably, the hot tub has been the backdropp for numerous bikini photos posted on Amanda's Instagram page.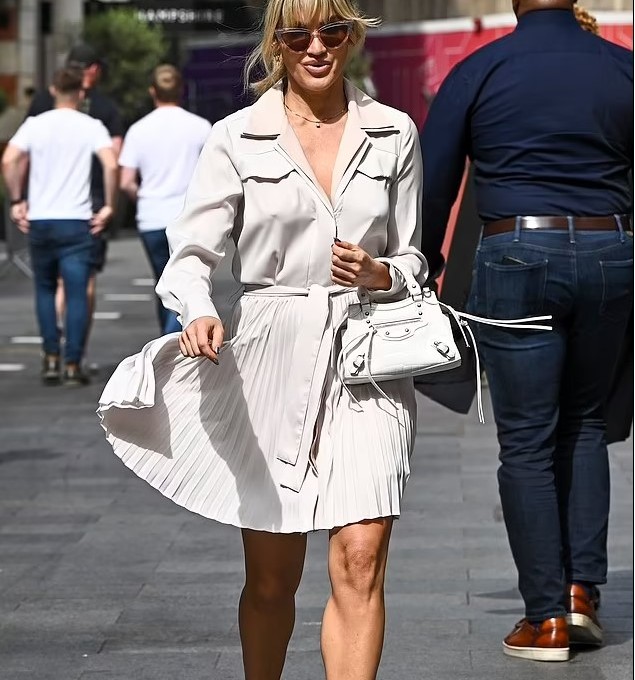 A close source revealed, "Amanda loves her family home and is really proud of the work she's done on it. She's had a real hand in the makeover and has enjoyed seeing her ideas come to life. It will be a sad day when she moves out, but Amanda can take comfort in the number of memories she's created there."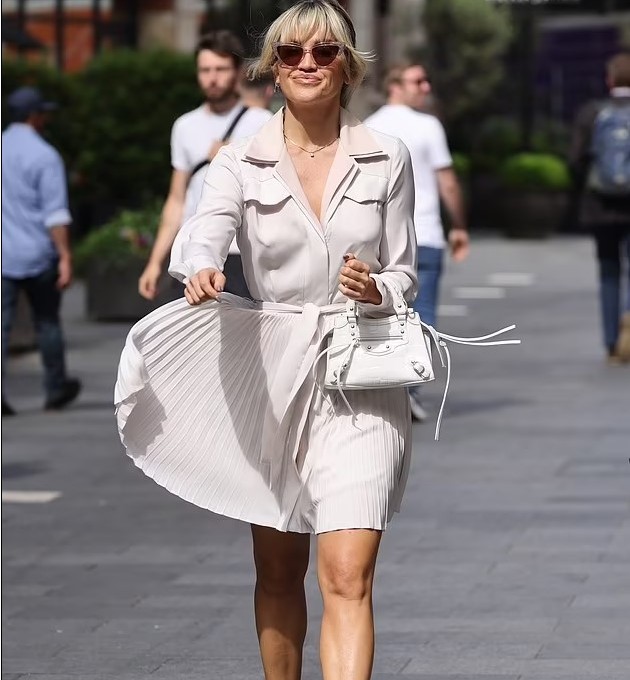 Amanda shares the property with her husband, record producer Chris Hughes, and their two daughters, Lexi, 16, and Hollie, 10. The couple initially referred to the house as their "forever home" upon purchasing it in 2015. Amanda's persistence played a crucial role in sealing the deal, as she had long sought to acquire the mansion and finally persuaded its former owners to sell. The couple also owns a holiday home in the picturesque Cotswolds, which they've been diligently renovating over the past year.
Amanda Holden is a British actress, television personality, and singer who is best known for her roles in Wild at Heart, Cutting It, and Britain's Got Talent. She is a vocal advocate for body positivity and has spoken out about her own experiences with body image issues.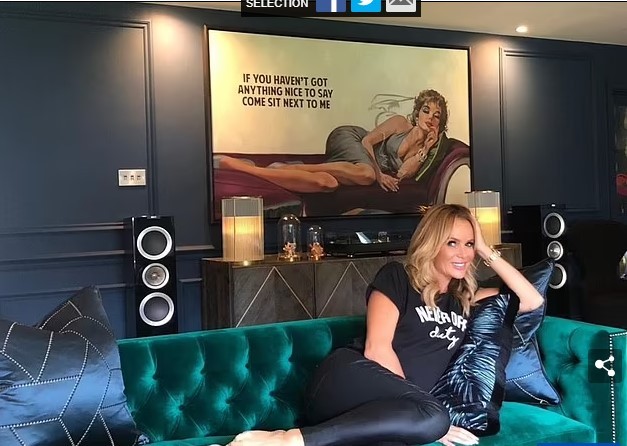 Ashley Roberts is a multi-talented British-American artist known for her work in the entertainment industry. Born on September 14, 1981, in Phoenix, Arizona, Ashley Allyn Roberts has established herself as a renowned singer, dancer, television personality, and media personality. She first gained prominence as a member of the successful girl group, The Pussycat Dolls, and has since diversified her career, making her a notable figure in the world of entertainment.
Ashley Roberts' journey to fame began when she moved to Los Angeles to pursue her dreams of becoming a dancer and entertainer. Her dedication and talent soon led her to join The Pussycat Dolls, an American girl group and dance ensemble founded by choreographer Robin Antin. As a member of The Pussycat Dolls, Ashley contributed her vocal and dancing skills to the group's chart-topping hits, including "Don't Cha" and "Buttons." The group's fusion of music, dance, and sensual performances captivated audiences worldwide and garnered them numerous awards and accolades.
Aside from her successful music career, Ashley Roberts has explored various avenues within the entertainment industry. She gained further recognition as a contestant on the British reality television show "I'm a Celebrity...Get Me Out of Here!" in 2012, where she showcased her adventurous spirit and endearing personality. Her appearance on the show endeared her to viewers and opened doors to numerous opportunities.
In the United Kingdom, Ashley Roberts has made a name for herself as a television and radio presenter. She has co-hosted the "Ant & Dec's Saturday Night Takeaway" and participated in the BBC's "Strictly Come Dancing" competition. Furthermore, she has become a familiar voice on the radio as a co-host of the Heart FM Breakfast Show. Ashley, along with her co-presenter Amanda Holden, engages and entertains listeners while keeping them updated on the latest trends and happenings.
Ashley Roberts' diverse career also includes acting roles. She has appeared in various television programs and made her theatrical debut in London's West End, where she took on the role of Dawn in the musical "Waitress."
In addition to her achievements in the entertainment industry, Ashley Roberts is known for her impeccable fashion sense and style. Her public appearances, whether on the red carpet or during her daily commute to the Heart FM studio, are often the center of attention. Fans and fashion enthusiasts look to her as a source of inspiration for the latest trends and chic outfits.
As a multi-talented entertainer, Ashley Roberts continues to captivate audiences with her charisma, versatility, and boundless energy. She remains a prominent figure in the world of entertainment, inspiring others with her talent and fashion-forward style.