Amanda Holden and Fellow Celebrities Embrace Early Halloween Spirit with Hocus Pocus Transformation
Despite October 31st still being a few days away, it seems that the allure of dressing up and taking on the roles of iconic characters is simply too enticing to resist.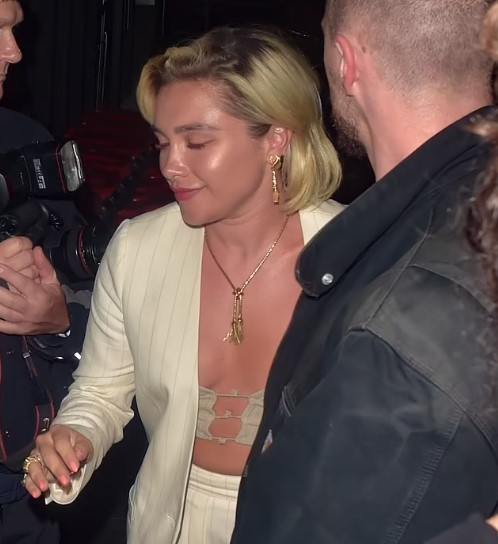 Amanda Holden, the vivacious 51-year-old Heart Radio presenter, set the stage for Halloween enthusiasts by teaming up with her co-hosts, Ashley Roberts and Jamie Theakston, to embody the iconic Sanderson sisters from the beloved 1993 film, "Hocus Pocus." The trio channeled Mary, Sarah, and Winifred, paying homage to the witches made famous in the cult classic. Their transformation took place within the heart of London, as they recreated the original movie poster right in the Heart Studios.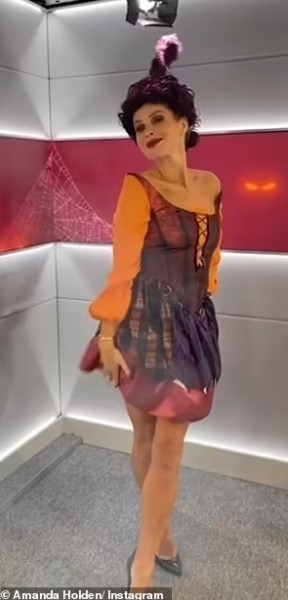 Amanda Holden, dressed as Mary, sizzled in her purple mini dress, complemented by pointed black stilettos and a purple wig fashioned into a witch's hat. The transformation was nothing short of bewitching.

For those looking for alternative Halloween outfit inspiration, we've scoured the celebrity scene and found a variety of creative costumes to draw inspiration from. From sexy ensembles inspired by iconic film characters to spine-chilling attire, we've got it all covered.

Kylie Jenner brushed off ongoing rumors and enjoyed a witch-themed outing with her friend Hailey Bieber. The pair, both 25, painted themselves green and donned sultry black witch costumes before heading to a pizza parlor. Their seemingly ordinary outfits left them pondering why they garnered so much attention from onlookers.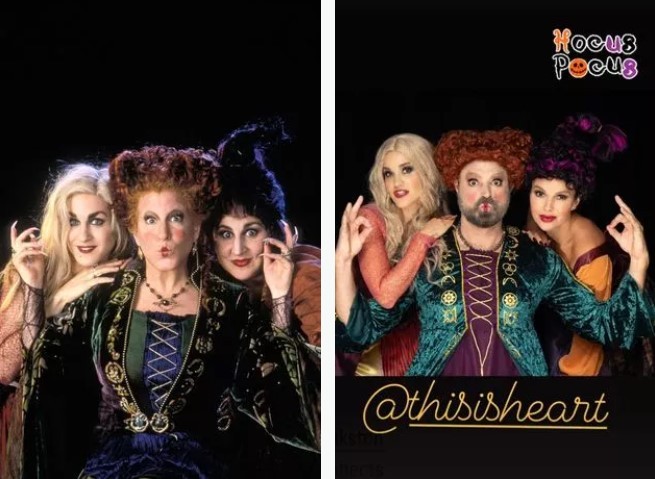 Rapper Megan Thee Stallion was quick to embrace the Halloween spirit, marking the occasion on October 1. In her fun and laid-back pyjamas, she sported an enormous and somewhat eerie jack-o'-lantern pumpkin as a headpiece while sipping on a mimosa and indulging in a book on Scandinavian design.

Actress Sarah Michelle Gellar, famous for her roles in "Buffy the Vampire Slayer" and "Scooby-Doo," delighted fans with her Halloween costume inspired by Netflix's "So Revenge." Donning the blue tartan skirt and matching tie of Rosehill Country Day School, Gellar playfully promoted the film's release, leaving followers wondering whether she's more of an Eleanor or Drea.

JoJo Siwa, the former Nickelodeon star, successfully brought the character of Draco Malfoy from the Harry Potter series to life, showcasing her striking resemblance to the iconic character in a Slytherin robe. Siwa's TikTok video recreated a memorable scene from "Harry Potter and the Philosopher's Stone," as she transformed into Draco, introducing himself and his friends to Harry Potter.

Jennifer Garner, the "13 Going On 30" star, gave Halloween enthusiasts a poetic and ghostly treat by donning two ghostly costumes alongside a dog in a bedsheet. She recited a whimsical poem as her video showed her in ghostly attire, adding a touch of eerie charm to her early Halloween celebrations.

"Stranger Things" actress Millie Bobby Brown chose a rather peculiar costume for the season, donning a stylish full-body cow suit featuring a heifer's face and ears. Her Instagram post, in collaboration with Samsung, playfully expressed her readiness for the Halloween festivities.

With celebrities wholeheartedly embracing the Halloween spirit, the anticipation for the ghoulish holiday continues to grow, and fans can't wait to see what other enchanting transformations are in store for Halloween 2023.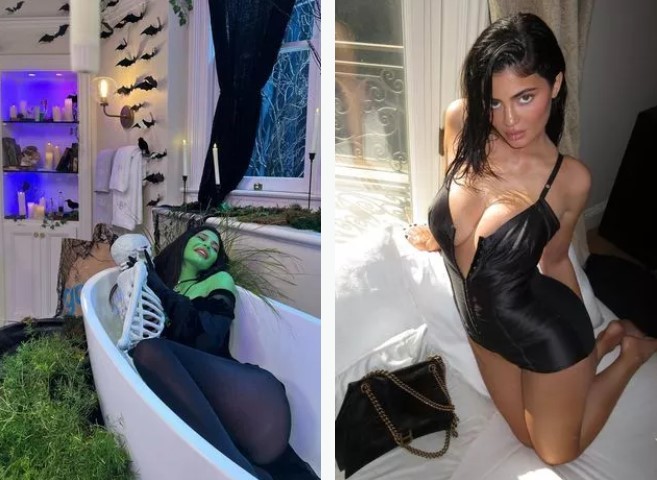 Halloween: A Spooky Delight
Halloween, the beloved and eerie holiday celebrated on October 31st, is steeped in rich history and traditions that continue to captivate people worldwide. For businesses and enthusiasts, Halloween offers a unique opportunity to engage in spooky festivities and enjoy a delightful blend of tricks and treats. Let's explore some captivating facts about Halloween that can boost your SEO strategy:
Halloween Origins: Halloween, also known as All Hallows' Eve, has ancient Celtic roots. It was initially called Samhain, a festival marking the end of the harvest season and the beginning of winter.
The Jack-O'-Lantern Tradition: The practice of carving pumpkins into Jack-O'-Lanterns was inspired by the Irish legend of Stingy Jack, a mischievous drunkard who encountered the Devil. Pumpkins were substituted for turnips in America.
Costume Craze: Halloween is famous for its costumes, ranging from spooky ghouls to beloved superheroes. Dressing up in costumes is believed to have originated from the Celtic tradition of disguising oneself from wandering spirits.
Trick-or-Treating Evolution: Trick-or-treating has evolved from a medieval practice called "souling," where the poor would go door to door offering prayers for the deceased in exchange for food. Today, children visit homes, receive candy, and playfully threaten a trick if treats are not given.
Halloween in Pop Culture: Halloween's prominence in popular culture is evident through classic horror movies like "Halloween" and "Psycho." Additionally, TV shows, such as "The Simpsons," frequently feature Halloween-themed episodes.
Haunted Houses: Haunted houses and attractions thrive during the Halloween season. These spooky experiences offer thrill-seekers a chance to confront their deepest fears in a controlled environment.
Season of Treats: Candy consumption during Halloween is colossal. In the United States alone, millions of pounds of candy are sold and devoured, making it a sweet opportunity for candy companies.
The Allure of Horror: The fascination with horror during Halloween extends to haunted mazes, horror-themed escape rooms, and chilling tales told around campfires, providing businesses with an array of entertainment opportunities.
Halloween's Economic Impact: Halloween's economic significance is substantial. Businesses across various industries, from costume retailers to pumpkin farms, experience a significant surge in revenue during the Halloween season.
Online Celebrations: With the advent of the digital age, Halloween has found a new platform on social media. People share costume ideas, makeup tutorials, and creative decorating tips, creating substantial online engagement.