Amanda Holden Displays Stunning Flexibility in Low-Backed Blazer Dress
The stunning celebrity showed off her incredible legs in a striking white blazer dress by Karen Millen. This stylish number featured front buttons and a daring cut-out section at the back, adding an element of allure to her ensemble.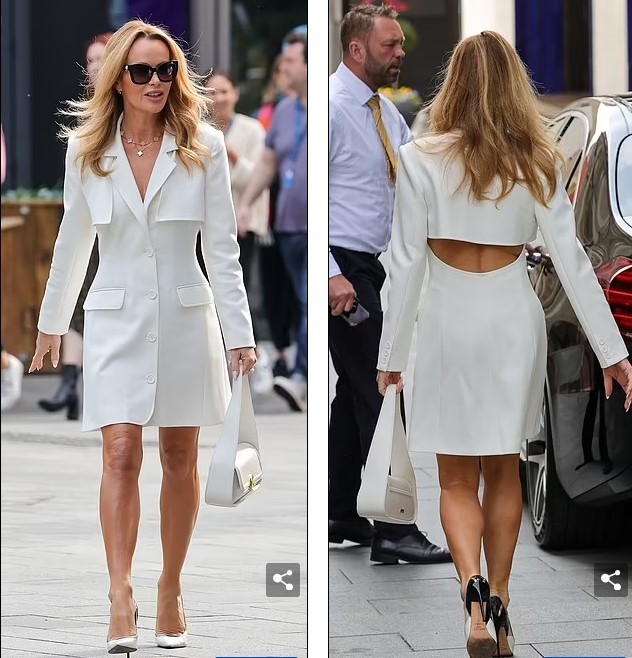 To complement the ensemble, Amanda donned a pair of white ombre heels and carried a matching handbag. The look was further enhanced with a pair of oversized sunglasses and a beautiful Van Cleef & Arpels necklace that perfectly offset her golden tan.
Amanda took to her Instagram shortly after, sharing some exciting news with her followers. She expressed her gratitude, saying, "11.3 million of you listen along with us at @thisisheart every week. Thank you for being part of our Heart Breakfast family."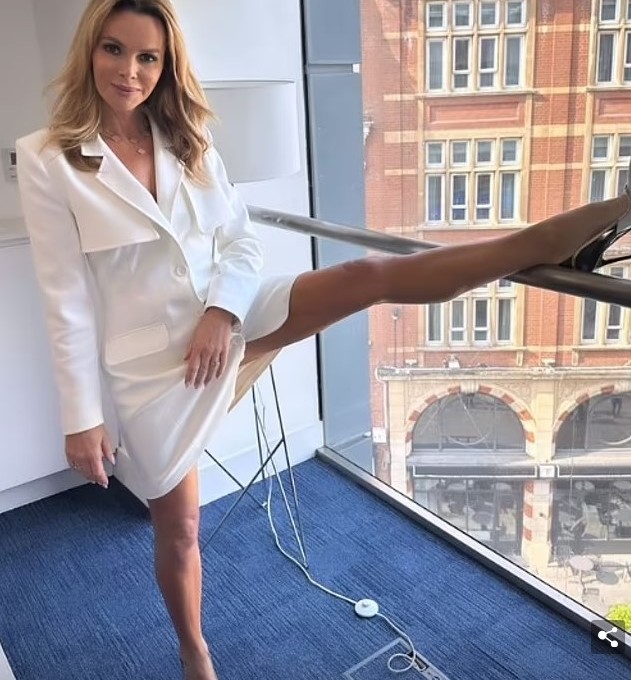 Amanda also took a moment to showcase her outfit through a video on her Instagram Stories. She shared her thoughts on the dress, praising its stylish lapels that can be tucked under and the charming cut-out detail at the back. Amanda suggested that the dress has a loose fit and recommended going down a size. She described the dress as cool, versatile, and not overly formal, suitable for various occasions, including business meetings, dinners, lunches, weddings, or christenings.
In a fun display of her remarkable flexibility, Amanda showcased her agility by balancing her leg on a pole while standing by a window, proving that she is not only stylish but also incredibly limber.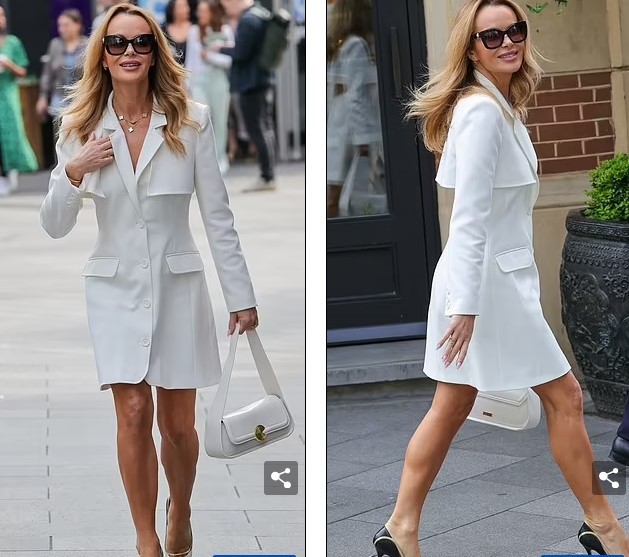 A memorable moment recently occurred on Amanda's radio show when her co-host, Jamie Theakston, decided to get a bit cheeky live on air. Amanda couldn't help but burst into laughter as Jamie humorously stripped "naked." Amanda, quickly seizing the opportunity, grabbed her phone to film her co-host as he playfully flexed his muscles for the camera.
Amanda playfully teased, "Jamie Theakston, in fact, I've gone live on my Instagram. If you want to see Jamie Theakston naked live on the radio." Jamie clarified, "Just from the waist up," but Amanda quipped that she couldn't see what was happening beneath the desk from her vantage point.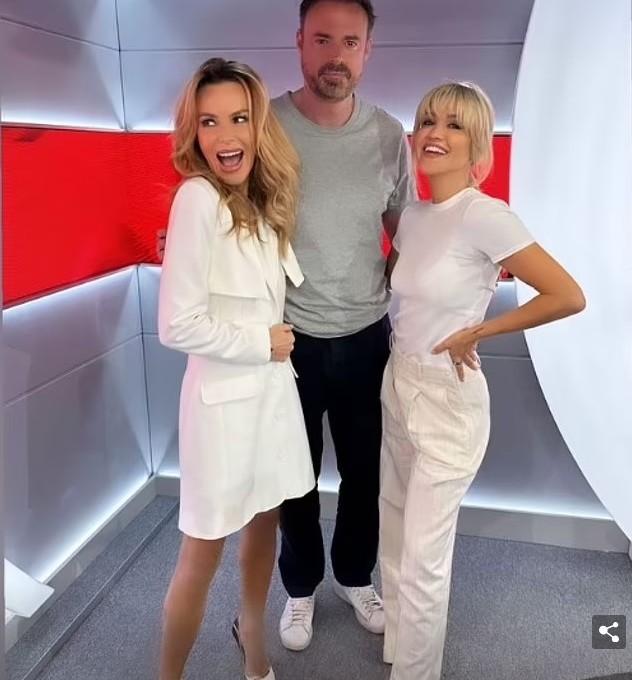 Their banter continued, with Jamie humorously stating that it was "probably for the best" and proceeding with the show's announcements and a preview of the next day's program. Amanda couldn't resist a playful interruption, exclaiming, "Are you going to be dressed?" Jamie reassured her with a simple "Oh yes."
Jamie later explained the reason behind his shirtless display, revealing that someone had absconded with his clothes, leaving him with nothing to wear. Amanda's fans, amused by the antics, took to her Instagram post to jest that Jamie had become the "radio streaker."
Amanda Holden's effortlessly chic yet playful style and her sense of humor continue to shine as she brings her unique charisma to the airwaves at Heart FM. Her fashion choices and lively on-air moments make her a beloved figure in the entertainment world.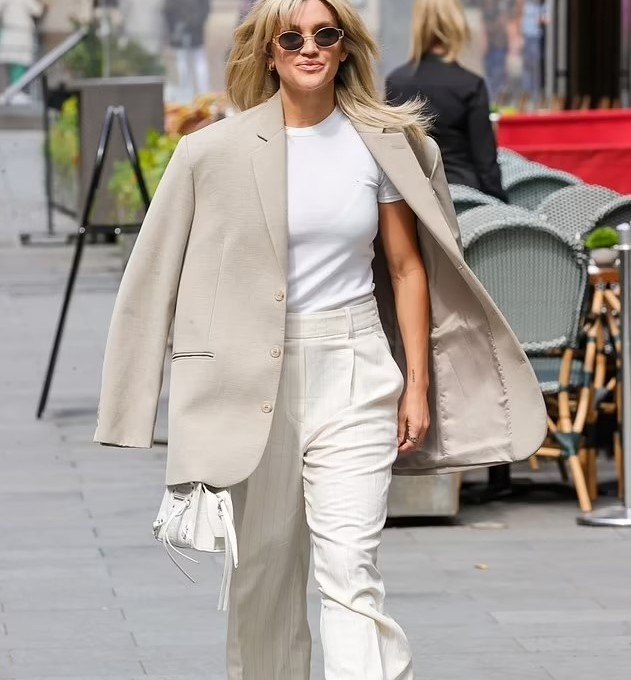 What was Amanda Holden famous for?
Amanda Holden is an English actress, singer, and television personality. She is best known for her roles as Bianca Jackson in the BBC soap opera EastEnders and as a judge on the ITV talent show Britain's Got Talent.
How many children has Amanda Holden got?
Amanda Holden has two children: daughters Alexa Louise Florence Hughes and Hollie Rose Hughes.
Is that really Amanda Holden's mother?
Yes, that is really Amanda Holden's mother, Judith Mary Holden. They are often mistaken for sisters.
What movies did Amanda Holden play in?
Amanda Holden has appeared in a number of films, including:
Cutting It (2002)
Wild at Heart (2006)
St Trinian's (2007)
The IT Crowd (2007)
Angus, Thongs and Perfect Snogging (2008)
Sunshine on Leith (2013)
Amanda Holden net worth
Amanda Holden's net worth is estimated to be around £3.6 million.
Amanda Holden age
Amanda Holden was born on February 16, 1971. She is currently 52 years old.
Amanda Holden first husband
Amanda Holden was married to Les Dennis from 1995 to 1999.
Amanda Holden daughter
Amanda Holden has two daughters: Alexa Louise Florence Hughes and Hollie Rose Hughes.

Who is Ashley Roberts in a relationship with?
Ashley Roberts is reportedly in a relationship with artist George Rollinson. The couple has been spotted together on a number of occasions, but they have not yet confirmed their relationship publicly.
What band was Ashley Roberts in?
Ashley Roberts was a member of the Pussycat Dolls, a popular girl group that released two studio albums and had several hit singles, including "Don't Cha" and "When I Grow Up."
How old is Ashley Roberts today?
Ashley Roberts was born on September 14, 1981. She is currently 42 years old.
What is Ashley Roberts famous for?
Ashley Roberts is famous for being a member of the Pussycat Dolls, but she has also had a successful career as a television presenter and singer. She has presented shows such as Ant & Dec's Saturday Night Takeaway and The Real Dirty Dancing UK, and she has released a solo album called Butterfly Effect.
Ashley Roberts partner
As mentioned above, Ashley Roberts is reportedly in a relationship with artist George Rollinson.
Ashley Roberts children
Ashley Roberts does not have any children.
Ashley Roberts net worth
Ashley Roberts' net worth is estimated to be around £4 million.
Ashley Roberts Wikipedia
You can read more about Ashley Roberts on her Wikipedia page: [Link to Ashley Roberts Wikipedia page]
Ashley Roberts son
Ashley Roberts does not have a son.
Who is the father of Ashley Roberts child
Ashley Roberts does not have a child, so she does not have a child's father.
Ashley Roberts Instagram
Ashley Roberts' Instagram handle is @ashleyroberts.
Is Ashley Roberts in a relationship with Jamie?
There is no evidence to suggest that Ashley Roberts is in a relationship with Jamie.