Amanda Holden's Playful Banter and Adventures on
The popular show, where Amanda teams up with comedian Alan Carr, offers viewers a delightful blend of travel, interior design, and genuine, heartwarming moments. While Amanda is well-known for her glamorous appearances on shows like "Britain's Got Talent," this new venture showcases a different side of her – one that involves donning boiler suits and getting hands-on with home renovations.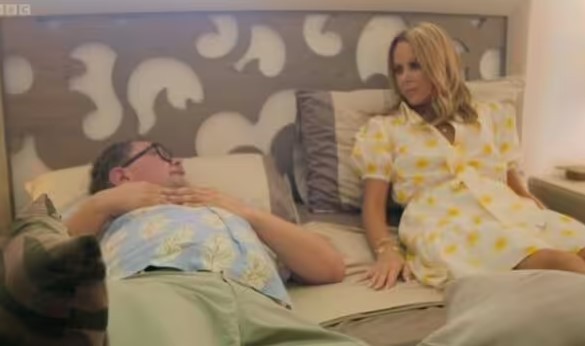 In their pursuit of decorating their newly acquired Sicilian apartments, Amanda and Alan find themselves in various comical situations, often leading to amusing banter between the two. It's this playful chemistry that has captivated the audience and earned them praise on social media. Fans have described their dynamic as "off the scale," appreciating the perfect mix of comedy, travel, and interior design on the show.

During a recent episode, Amanda and Alan embarked on a mission to find the perfect mattress for their Sicilian abode. It was during this mattress shopping escapade that Amanda teased the audience by making it sound as though she was about to reveal some sizzling secrets. However, the conversation took an unexpected turn as they discussed sleeping positions instead. Alan's cheeky question about Amanda's prowess in bed was met with her quick-witted response: "I'm brilliant, apparently!" Amanda's infectious sense of humor added, "Of course, I'm going to say that!"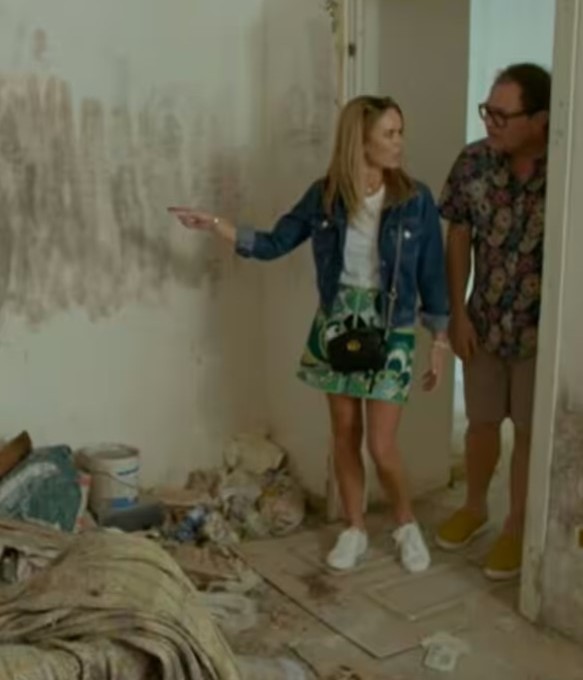 As the banter continued, Alan, trying to rephrase his question innocently, inquired about Amanda's nocturnal movements. Without missing a beat, Amanda playfully demonstrated her preferred sleeping position by lying perfectly still on one of the store's show beds, declaring, "I sleep like this, and I don't move!" The lighthearted exchange left fans in stitches and cemented Amanda and Alan's reputation as a dynamic and entertaining duo.

While Amanda is widely recognized for her glamorous appearances on shows like "Britain's Got Talent," her participation in "The Italian Job" allowed viewers to see a different side of the versatile entertainer. This time, she wasn't in dazzling designer dresses or engaging in scantily clad poolside photoshoots; instead, she was rolling up her sleeves and immersing herself in the nitty-gritty world of renovations.

In fact, Amanda has been more candid than ever about her experiences on the show. She openly admitted that the demanding renovations had left her with a "sore back" and playfully shared that she had broken "a couple of nails" during the process. "We bashed walls down, we took metalwork off, we took windows out, we bricklaid," she exclaimed, highlighting the physical challenges they faced during the renovation.

Alan Carr, Amanda's co-host, chimed in, expressing his newfound respect for tradespeople and acknowledging the sheer physical effort they put into their work. While Amanda and Alan both share a passion for travel, their Sicilian adventure required them to roll up their sleeves and tackle home improvement projects, providing a refreshing departure from their usual on-screen personas.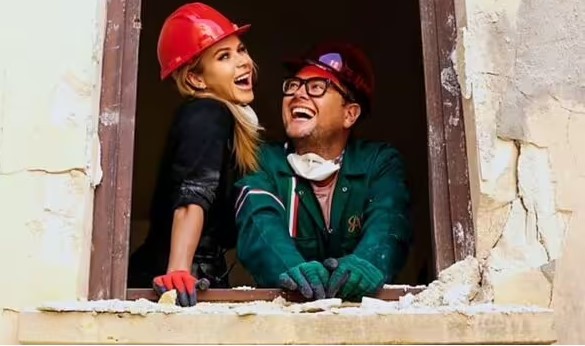 Amanda has been candid about her personal life as well. She has shared glimpses of her relationship with husband Chris Hughes, revealing their playful and loving bond. From bouncing naked together on a trampoline to enjoying a "primal" love life, Amanda has made it clear that her partnership with Chris remains passionate and full of life. She even humorously referred to herself as the "Naked Chef," sharing stories of impromptu stripping sessions at home.

Amanda Holden's sense of humor and charisma have endeared her to audiences worldwide, and "The Italian Job" is yet another platform where she shines. While the saucy side of Amanda may not have taken center stage in this particular show, her playful banter and engaging personality have left an indelible mark on viewers. Whether it's tackling renovations in Sicily or sharing amusing anecdotes from her personal life, Amanda Holden continues to be a beloved and entertaining figure in the world of entertainment.
Here is an extended version of the paragraph you provided, including some additional information and context:
Amanda Holden is a versatile performer who has excelled in a variety of genres, including acting, singing, and presenting. She is also a successful businesswoman with her own clothing line and fragrance. Holden is known for her down-to-earth personality and her willingness to share her life with her fans. She is also a vocal advocate for women's rights and self-acceptance.
On "The Italian Job," Holden showcased her comedic skills and her ability to connect with audiences on a personal level. She was not afraid to laugh at herself and to share her own vulnerabilities. This made her relatable and endearing to viewers.
Holden's playful banter with her co-hosts and guests was one of the highlights of the show. She had a knack for putting people at ease and making them feel comfortable. She was also able to draw out the best in her guests, even when they were being interviewed about sensitive topics.
Holden's engaging personality was also evident in her interactions with the people of Sicily. She was genuinely interested in learning about their culture and way of life. She was also eager to share her own experiences with them. This made her feel like a welcome guest in their community.
Overall, Amanda Holden's performance on "The Italian Job" was a testament to her talent, versatility, and charisma. She is a true entertainer who knows how to connect with audiences on a deep level. She is also a role model for women of all ages.