Amanda Holden's Radiant Periwinkle Mini Dress at Heart FM Radio Studios
On any given day, as she makes her way to and from the Heart FM radio studios, she effortlessly captivates everyone with her glamorous and chic fashion choices. And on a recent Wednesday, the 52-year-old star did just that, stunning onlookers in a chic periwinkle mini dress paired with killer heels.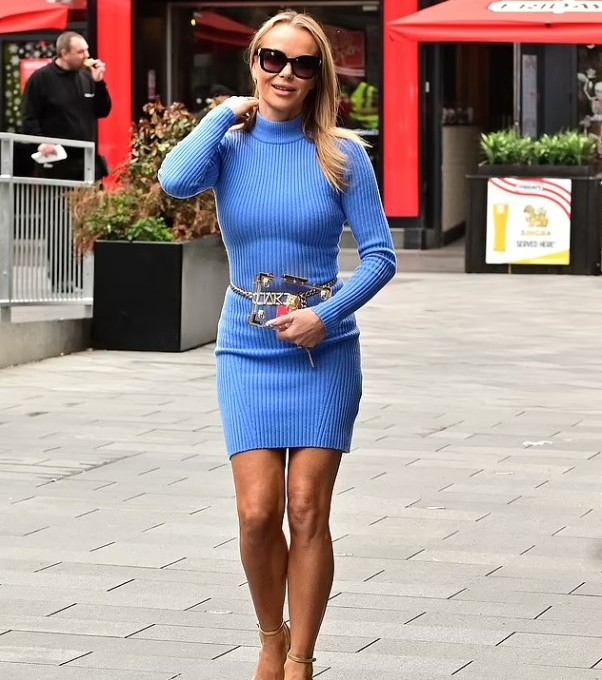 Amanda Holden: A Style Icon
Amanda Holden's name has long been synonymous with style and grace. As one of the most recognized faces in British entertainment, she has consistently wowed audiences not only with her talent but also with her fashion sense. Whether gracing the red carpet at a glamorous event or simply heading to work at the Heart FM radio studios, Amanda never fails to impress.
The Periwinkle Mini Dress that Turned Heads
On this particular Wednesday, Amanda Holden stepped out in a figure-hugging periwinkle mini dress that left everyone in awe. The dress was a testament to Amanda's keen fashion sensibilities and her ability to effortlessly pull off even the most daring looks.
The periwinkle mini dress showcased Amanda's enviable figure flawlessly. Its snug fit accentuated her curves, and the vibrant periwinkle color complemented her radiant complexion beautifully. Amanda's choice of attire for the day was nothing short of a fashion statement, as she confidently strutted down the street, turning heads at every step.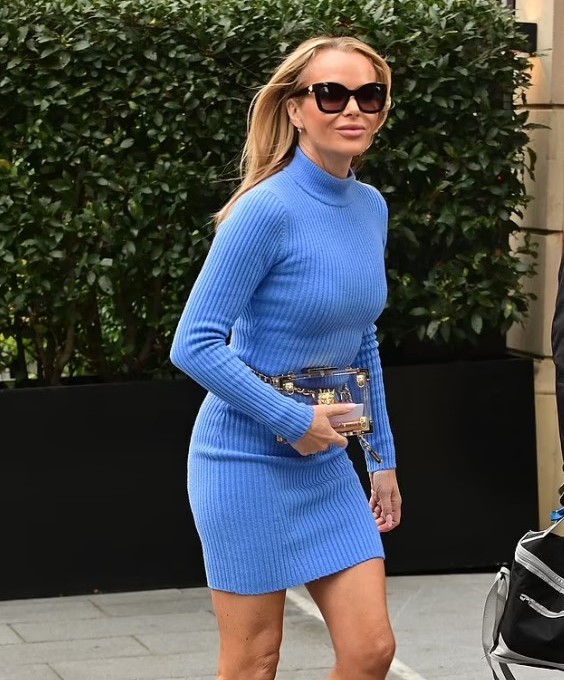 Accessorizing with Elegance
To complete her stylish ensemble, Amanda made strategic accessory choices that added an extra layer of elegance to her look. Gold strappy heels not only elevated her stature but also perfectly matched the gold belt chain she had cinched around her waist. This tasteful addition emphasized her hourglass figure and added a touch of luxury to her outfit.
Shielding her eyes from the paparazzi flashes, Amanda opted for sleek black sunglasses, adding an element of sophistication to her overall appearance. In her hand, she carried a clear clutch bag, combining practicality with style.
A Glimpse into Amanda's Personal Life
While Amanda Holden is undoubtedly a style icon and a prominent figure in the entertainment industry, her personal life has also seen its fair share of ups and downs. Recently, a candid confession from her past resurfaced, shedding light on a pivotal moment in her life.
In 1993, at the age of 22, Amanda fell in love with Les Dennis, the host of "Family Fortunes," who was then 40. Their whirlwind romance blossomed while they were both starring in a production of "The Sound Of Music." Two years later, they exchanged vows and embarked on their journey as a married couple. However, their marriage faced its own set of challenges.
In 2000, it was revealed that Amanda had engaged in an affair with her Shakespeare co-star Neil Morrissey. This revelation marked a turning point in their relationship, eventually leading to their divorce. At the time of their split, Amanda candidly expressed her desire for children but not with Les, ultimately making the difficult decision to part ways.
She openly stated, "I terribly want children but I didn't want to have them with Les. That's a horribly brutal thing to say, but when you do, you know you have to move on." Amanda initiated the divorce, and her affair became public knowledge, subjecting her to a period of intense public scrutiny.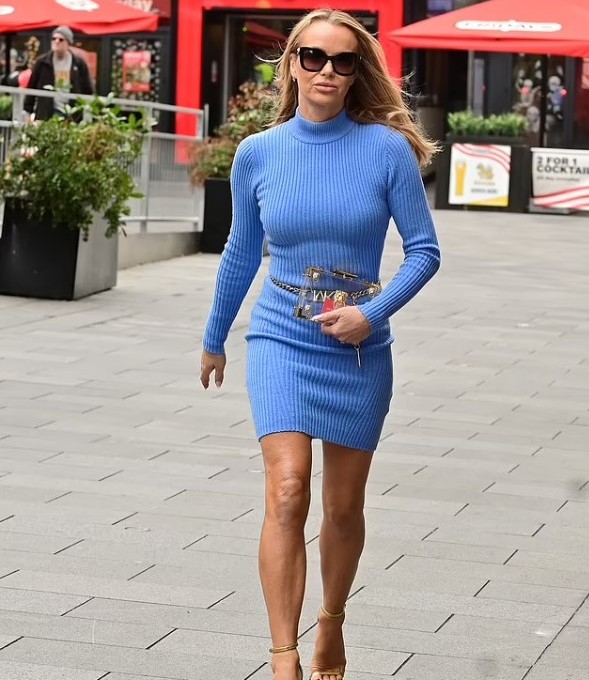 Les Dennis's Perspective
Les Dennis, who recently participated in "Strictly Come Dancing," shared his perspective on his past relationship with Amanda. He expressed that he had moved past the events of their past and genuinely wished her happiness in her new life. Les emphasized that he harbored no ill feelings and could now watch "Britain's Got Talent" without holding onto any lingering resentment.
In fact, Les even contemplated the intriguing idea of Amanda playing herself in a hypothetical biopic of his life. This notion acknowledged the significant role that Amanda had played during that particular period in his life.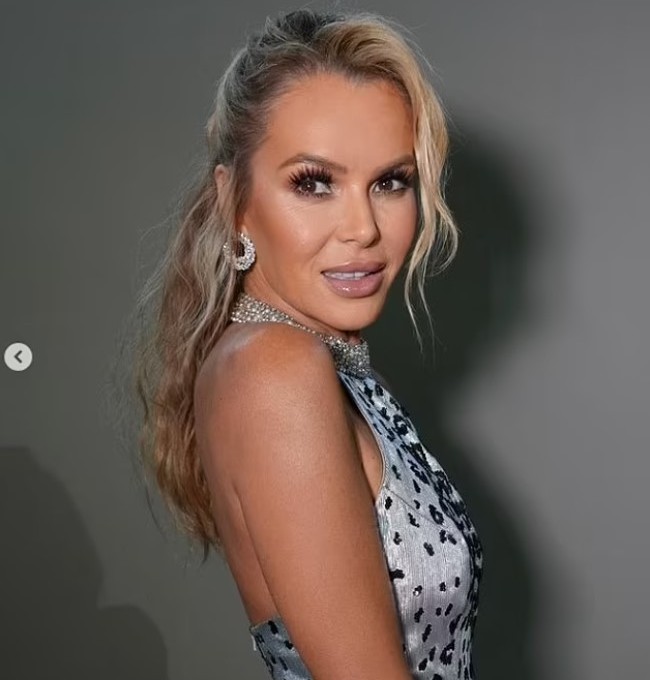 Amanda's Reflection on the Past
Amanda Holden openly discussed her emotions during the tumultuous times following her affair and divorce. She admitted to finding it exceptionally challenging to deal with the sudden fall from grace and the abrupt shift in public perception. Despite the hardships, Amanda admired Les for his honesty in expressing his emotions, contrasting it with her tendency to be a people pleaser.
She candidly explained, "My trouble is that I'm a people pleaser. I might feel down in the dumps, but I'll always put on a bright face for the rest of the world... And I'm ruled by my heart, not my head." Amanda revealed that she had always wished to exude an air of mystery but acknowledged that she was not an enigma. Her every comment and action seemed to attract public attention, even the most insignificant ones.
A Public Apology
In 2014, Neil Morrissey, Amanda's former co-star with whom she had the affair, publicly apologized to Les Dennis for the turmoil that their situation had caused. Morrissey expressed his regret for the emotional distress that Les had endured during that challenging time.
He acknowledged the complexity of the situation and the profound impact it had on Les. This heartfelt apology was made during an episode of Piers Morgan's "Life Stories" and marked a moment of closure and reconciliation between the two men.
While Amanda Holden's personal life has faced its fair share of challenges and public scrutiny, her career and style continue to shine brightly. Her recent choice of a periwinkle mini dress once again showcased her impeccable fashion sense and her ability to turn heads effortlessly.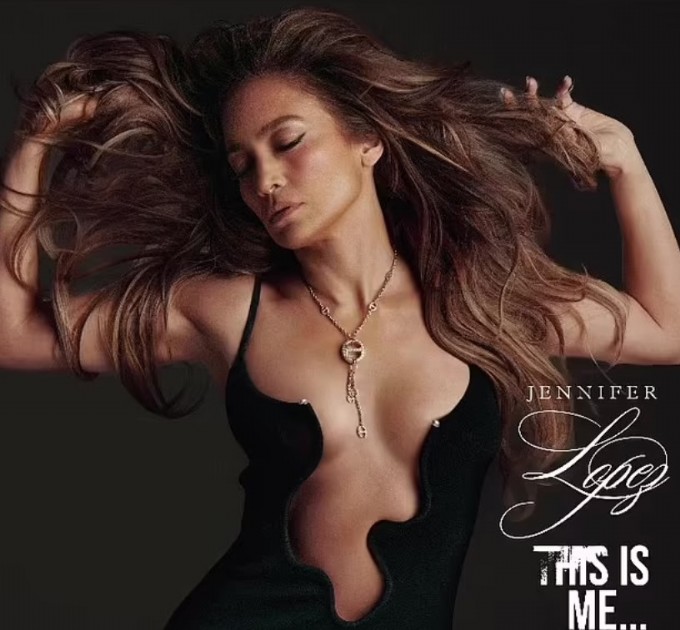 Whether she's gracing the radio waves with her presence or making a grand entrance on the red carpet, Amanda Holden remains a style icon and a symbol of grace in the world of entertainment. Her fashion choices inspire and captivate, making her a beloved figure in the hearts of many.