Amanda Holden's Stunning Barbie-Inspired Look in London
At 52 years old, the television personality effortlessly exuded glamour in a plunging silk shirt, perfectly paired with matching flared trousers, creating a look that turned heads and sparked admiration.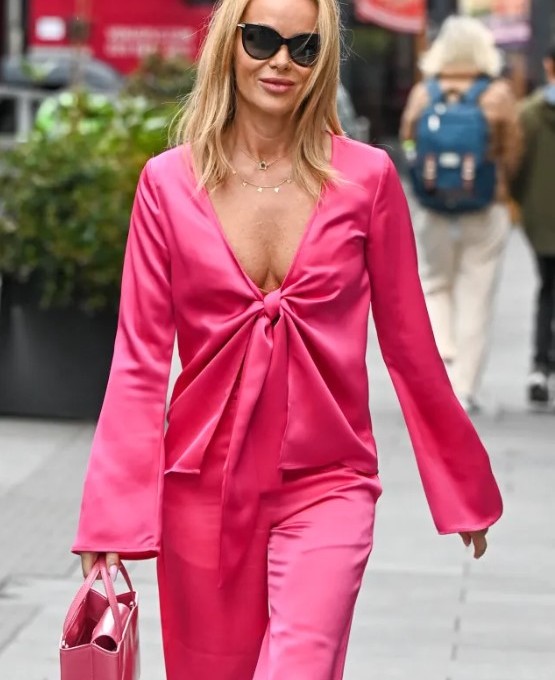 As Amanda strutted her stuff through the streets of London, leaving the Heart FM studios, she showcased her impeccable sense of style. The plunging neckline of her silk shirt hinted at a daring choice – possibly going braless – adding an extra layer of boldness to her already eye-catching attire. To complete her Barbie-inspired look, she opted for matching fuchsia stilettos, a coordinating handbag, gold chains, and a pair of chic sunglasses that perfectly complemented her overall ensemble.

One cannot help but admire Amanda Holden's ability to effortlessly carry off such a daring and vibrant outfit, which undoubtedly captures the essence of the fashion-forward Barbie. Her confidence and sense of style shine through in every fashion choice she makes, and this occasion was no exception. Her cheerful demeanor and radiant smile as she interacted with onlookers further emphasized her fashion prowess and charisma.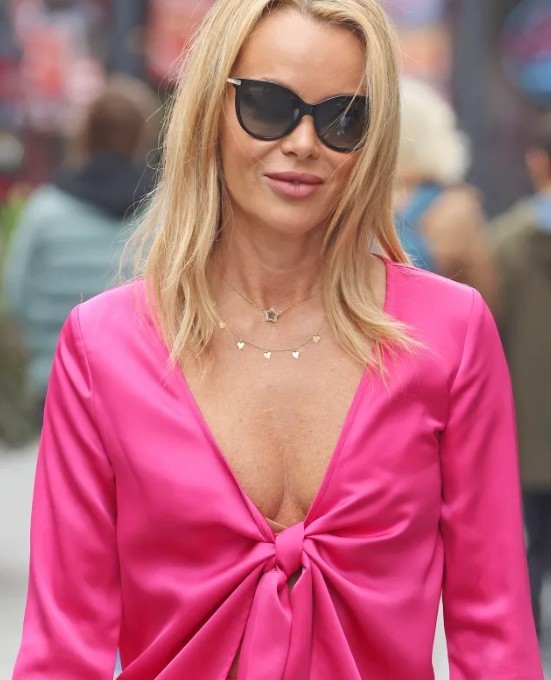 Amanda's fashion choices have consistently dazzled her fans and the fashion world alike. This recent display of her Barbie-inspired outfit reaffirms her status as a fashion icon, leaving everyone in awe of her sartorial choices. Whether she's gracing the red carpet, hosting television shows, or simply stepping out on the streets of London, Amanda Holden never fails to make a lasting impression.

In addition to her recent Barbie-inspired look, Amanda has been making waves in the fashion world with her diverse and bold choices. Just a day before, she wowed the crowd with a cut-out black Michael Kors dress after a day out at Wimbledon. In her usual witty and humorous style, she told her followers, "It's really comfy because I ate and drank a lot. It feels like Monday today."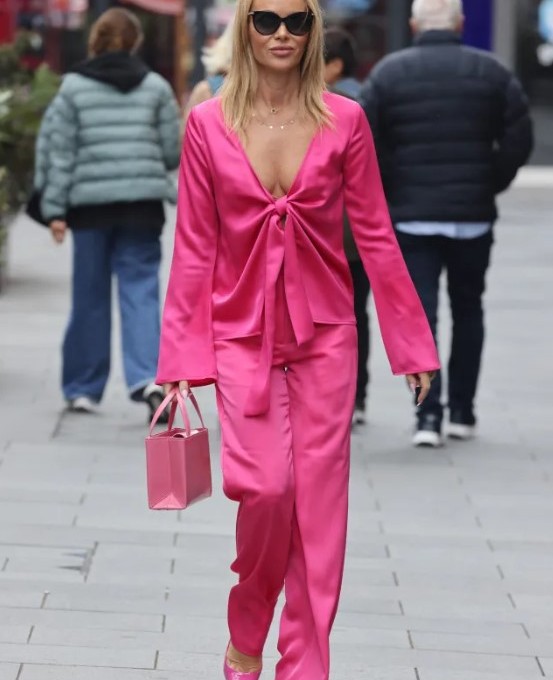 Amanda's passion for fashion has also been evident in her recent appearance at this year's Wimbledon tennis tournament. She attended the event with her lookalike daughter, Lexi, who is 16 years old, and her best friend, Ashley Roberts, aged 41. The trio made quite an impression, with Amanda, in particular, seizing the opportunity for glamorous photos. She was even seen playfully perching on the umpire's chair, showing off her legs and radiating confidence.

What sets Amanda Holden apart in the world of fashion is not only her impeccable taste but also her fearless approach to style. She remains unapologetically herself, and her fashion choices reflect her vibrant personality. Even as a mother of two, she continues to embrace bold and daring fashion statements, garnering widespread admiration.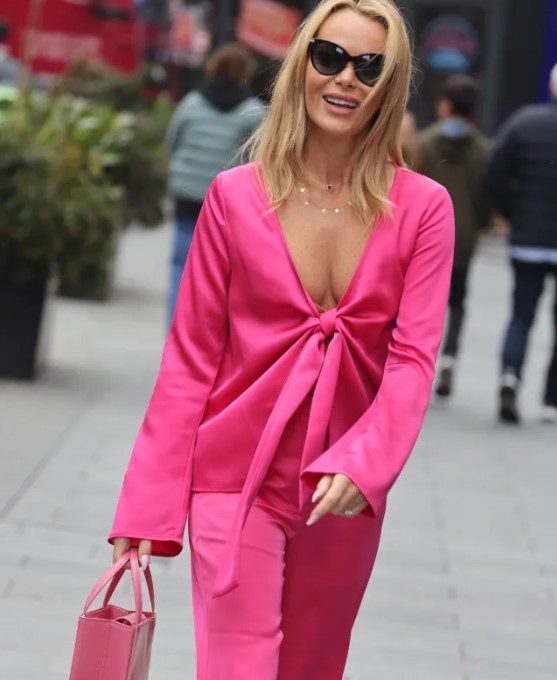 One notable aspect of Amanda's fashion journey is the unwavering support she receives from her daughters. Despite some of her daring choices, Amanda shared that her daughters have never asked her to tone down her fashion sense. Her confident and empowering approach to style has clearly left a positive impact on her children, who appreciate her authenticity.

Amanda's fashion journey continues to inspire and captivate audiences worldwide. Her bold and eclectic choices reflect her vibrant personality, and she effortlessly transitions from one stunning ensemble to another, always pushing the boundaries of style. Whether she's donning a sophisticated gown on the red carpet or expressing her unique style on the streets of London, Amanda Holden continues to be a beacon of fashion inspiration for all.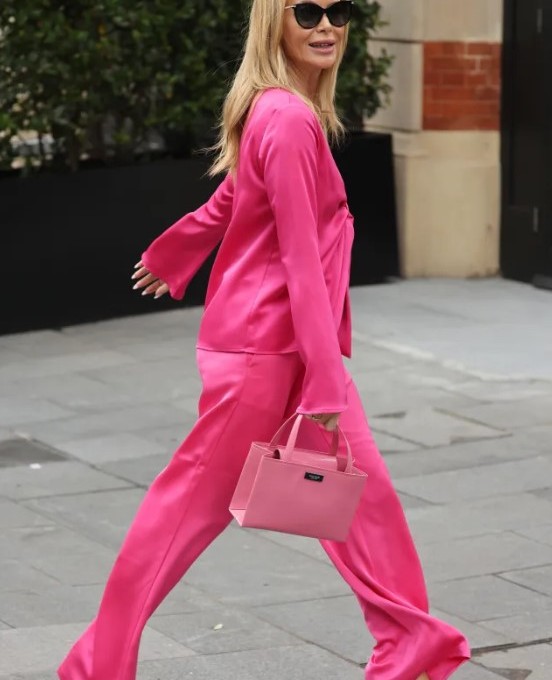 As Amanda embarks on new fashion adventures and continues to make bold style statements, her fans eagerly anticipate her next captivating look. Stay tuned for more updates on Amanda Holden's sartorial escapades, as she remains an influential and celebrated figure in the world of fashion and entertainment.
Amanda Holden is a fashion icon whose bold style statements and sartorial escapades have made her a beloved figure in the world of fashion and entertainment. From her dazzling red carpet gowns to her edgy everyday looks, Holden always knows how to turn heads.
Holden's fashion sense is not just about looking good. She also uses her platform to promote diversity and inclusivity in the fashion industry. She has spoken out about the importance of representing all body types and ages in fashion advertising and campaigns.
In a recent interview, Holden spoke about her passion for fashion and her commitment to diversity. She said, "I believe that everyone should have the opportunity to express themselves through fashion, regardless of their body type or age. I want to see a more diverse and inclusive fashion industry that reflects the world we live in."
Holden's commitment to diversity is reflected in her own personal style. She is often seen wearing clothes from a variety of designers, including those who focus on diversity and inclusivity. She has also been a vocal supporter of campaigns to promote body positivity and self-acceptance.
Holden's influence on the fashion industry is undeniable. She is a role model for women of all ages, showing them that it is possible to be confident and stylish at any stage in life. She is also an inspiration to all who admire fashion and its power to express oneself.
Holden's commitment to diversity and inclusivity is a breath of fresh air in the fashion industry. She is a role model for anyone who has ever felt excluded or marginalized by the fashion world. Her work is helping to create a more inclusive and accepting industry, where everyone feels welcome and represented.
Holden is a true fashion icon. She is not afraid to take risks and to express herself through her clothes. She is also a strong advocate for diversity and inclusivity, using her platform to make a difference in the world.