Amanda Holden's Unintended Flash at Heart Radio and Festive Reindeer Transformation
Amanda Holden accidentally made headlines on Friday as she inadvertently flashed her fans while presenting her outfit at Heart Radio. The 52-year-old presenter was discussing the details of her ensemble when she unintentionally lifted up her top, revealing a bit more than intended.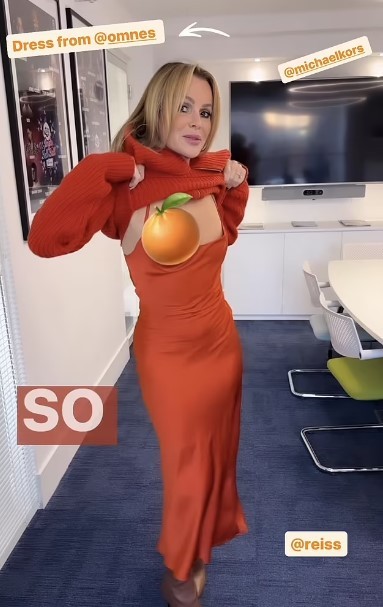 Holden looked stunning in an orange roll neck jumper from Michael Kors paired with a coordinating silk dress from Omnes. Completing her chic look, she donned a pair of leather heeled boots and styled her hair straight for a polished finish.
As she enthusiastically explained the versatility of her outfit, Amanda playfully exclaimed, "Oh no! Did you just get my t**?!" laughing off the unexpected moment. The person behind the camera quickly covered her modesty with an emoji.
Meanwhile, her co-host Ashley Roberts, 42, chose a fashionable grey knitted midi dress matched with knee-high boots. Exiting the studio, she added an oversized leather jacket and sunglasses for a stylish touch.
This incident followed Amanda and Ashley's festive celebration during their Heart FM radio show, where they transformed into 'sexy reindeers.' The duo looked fantastic in off-the-shoulder skintight reindeer costumes with white fur tails, complemented by matching reindeer ears, face paint with whisker dots, and black noses.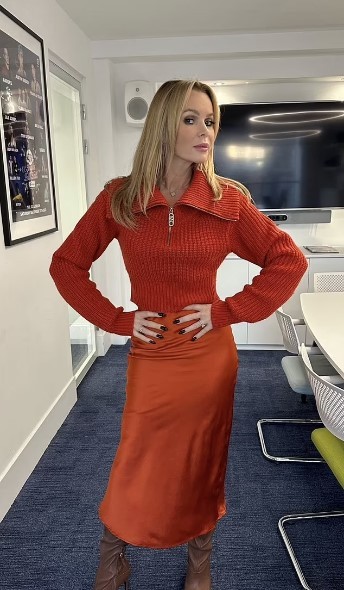 During their Christmas video shoot, the pair danced around the snow-covered studio, wiggling their bottoms, and shared a kiss under the mistletoe. The radio hosts then activated a 'snow cannon,' spraying them with white paper, declaring, 'We've switched on Christmas!'
In contrast to their festive attire, their co-host Jamie Theakston missed the memo and appeared as Father Christmas.
Notably, this news comes on the heels of MailOnline's exclusive revelation that Ashley Roberts is in a new relationship with artist George Rollinson. The Pussycat Doll enjoyed a romantic Dubai holiday with her 25-year-old boyfriend, where they soaked up the sunsets at Caesars Palace and dined at upscale establishments.
George Rollinson, an accomplished artist known for collaborations with celebrities like Drake and Anthony Joshua, is 17 years Ashley's junior. Sources suggest that the couple is smitten with each other, sharing glimpses of their private life on social media. The relationship marks Ashley's first serious partnership since her 2020 split from Strictly Come Dancing professional Giovanni Pernice. Despite the age difference, the two share common interests, and George's creativity has reportedly inspired Ashley in a way she hasn't felt in a long time. After their Dubai getaway, Ashley posted photos captioned, 'Dubai my lover. Dubai my friend.'
Amanda Holden's fame
Amanda Holden is an English actress, singer, and television personality. She is best known for her role as Sarah Trevanion in the ITV drama "Wild at Heart" (2006–2009) and as a judge on the talent show "Britain's Got Talent" since 2007. She has also appeared in several films, including "Kiss Me Kate" (1998–2000), "The Grimleys" (1999–2001), and "Cutting It" (2005–2008).
Amanda Holden's mother
Amanda Holden's mother is Judith Blow, a drama teacher. Holden has said that her mother was a major influence on her decision to pursue a career in acting.
Amanda Holden's weight loss
Amanda Holden has been very open about her struggles with weight loss over the years. She has said that she has tried a variety of diets and exercise programs, but nothing has worked consistently for her. In 2012, she had a gastric band fitted, which helped her to lose 7 stone (98 pounds). However, she has since gained some of the weight back.
Movies Amanda Holden played in
"Intimate Relations" (1996)
"Kiss Me Kate" (1998–2000)
"The Grimleys" (1999–2001)
"Ready When You Are, Mr. McGill" (2000)
"Cutting It" (2005–2008)
"Wild at Heart" (2006–2009)
"Marple" (2004)
"Jonathan Creek" (1997)
"Smack the Pony" (2000)
"EastEnders" (1992)
"Hearts and Bones" (2000)
"Celeb" (2002)
"Big Top" (2009)
"Superstar" (2012)
"This Morning" (1988–present)
"Give a Pet a Home" (2009–present)
In addition to her film and television roles, Amanda Holden has also appeared in several stage productions, including "Thoroughly Modern Millie" (2003–2004) and "Shrek the Musical" (2011–2012).
Amanda Holden 2023
Amanda Holden is still going strong in 2023. She is still judging on Britain's Got Talent, and she has also been working on new projects, including a new album and a new TV show. She is also a successful businesswoman, and she has her own clothing line and fragrance range.
Amanda Holden net worth
Amanda Holden's net worth is estimated to be between £20 million and £30 million. She has made her money from her acting, singing, and television work, as well as from her business ventures.
Amanda Holden age
As of today, November 17, 2023, Amanda Holden is 52 years old. She was born on May 16, 1971, in Wrexham, Wales.
Amanda Holden latest photos
Amanda Holden is very active on social media, and she often shares photos and videos of herself on her Instagram account. You can also find many photos of her on the internet.
Amanda Holden first husband
Amanda Holden was married to Les Dennis from 1995 to 2003. The couple met while they were both working on the British sitcom "Couples". They had no children together.
Amanda Holden daughter
Amanda Holden has two daughters: Lexi and Hollie. Lexi was born in 2006, and Hollie was born in 2012. Amanda Holden is a very private person, and she rarely shares photos of her daughters on social media. However, she has said that they are the most important thing in her life.