Amanda Holden Shines in Radiant Red Dress Leaving Heart FM: Reveals 'Strictly' Experience
This attention-grabbing outfit came after Amanda confessed to experiencing the infamous "Strictly Come Dancing curse" during the filming of a new documentary.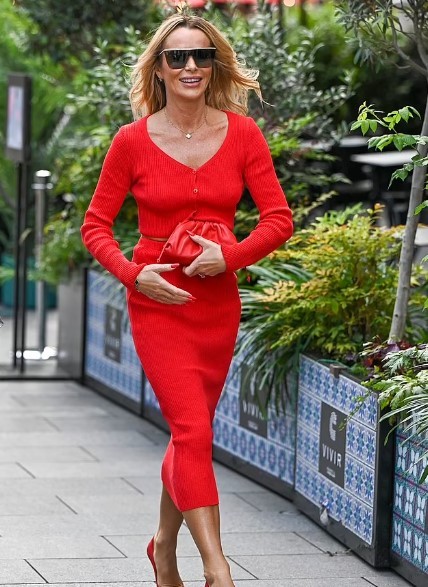 The 52-year-old television personality looked absolutely stunning in her long-sleeved, button-front dress, accentuating her waist with a sleek tan belt. Completing her ensemble, she donned matching pointed-toe heels that added inches to her frame and carried a clutch that perfectly complemented her attire.

Amanda added an extra touch of style with chunky black sunglasses and a delicate gold pendant necklace to elevate her daytime look.

In her documentary series titled "Sex: A Bonkers History," Amanda teamed up with former Strictly professional dancer Pasha Kovalev. During the show, they performed the Tudor dance "The Volta," which was considered scandalous in its time for allowing unmarried individuals to touch on the dance floor.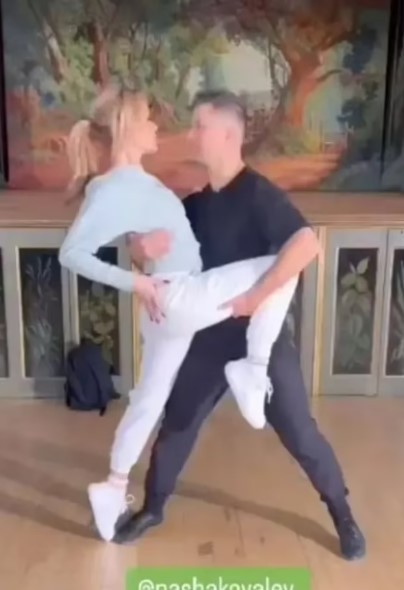 Amanda reflected on the experience, saying, "You weren't even allowed to hold hands, and then being allowed to be that intimate, it was weird having that moment with Pasha. I felt the feeling just in that afternoon, so I can't imagine how people felt touching like that centuries ago. But Pasha, [who is married to Rachel Riley], he was so patient. It really took me ages to learn that step, hop, and kick."

Despite her glamorous appearance, Amanda also revealed a more relatable side of her life. She shared that, despite trying to detox her diet, she still enjoys an Aperol Spritz every day. The vegetarian television star emphasized that while she strives for a healthy lifestyle, she loves indulging in a glass of wine.

Amanda highlighted that she's not an advocate of strict diets, stating, "I am a huge fan of Victoria Beckham, and she always looks super sexy, but I also happen to know she loves a good red wine. She might be eating steamed fish, but she is knocking back the wine!"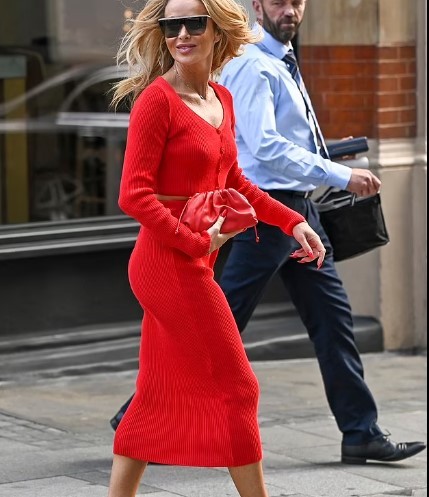 When it comes to fitness, Amanda confessed that she dislikes going to the gym but finds solace in going for a run. She values the time it gives her for mental reflection and enjoys listening to her favorite music during her runs.

Amanda Holden has become a style icon known for her impeccable fashion choices, and her recent appearance in the stunning red dress certainly reaffirms her status in the world of entertainment and fashion.

In other news, Amanda Holden's new documentary series, "Sex: A Bonkers History," is set to premiere on Sky History on September 18th at 9 p.m. This exciting project promises to provide a unique perspective on the history of sexuality and intimate relationships.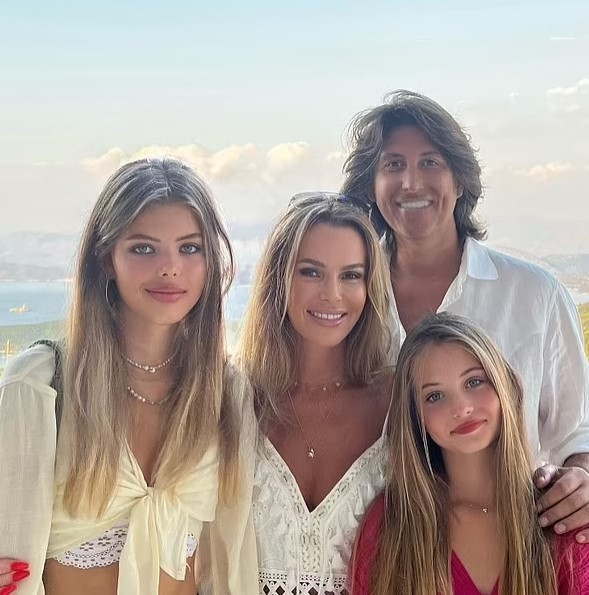 The "Strictly Come Dancing curse" has been a topic of fascination for fans of the show, as it has been associated with several couples who experienced relationship challenges during or after their time on the program. Amanda's revelation about her experience adds another intriguing chapter to the lore of the "Strictly curse."