Amanda Holden shows of cleavage as She Enjoys St Tropez Holiday and Boozy Lunch with Piers Morgan
The charming presenter was joined by her daughters, Hollie and Alexa, along with close family friends, including former Formula One racing champion David Coulthard and his wife, Karen Minier. Amanda also had the pleasure of sharing a delightful lunch with Piers Morgan, the host of Good Morning Britain.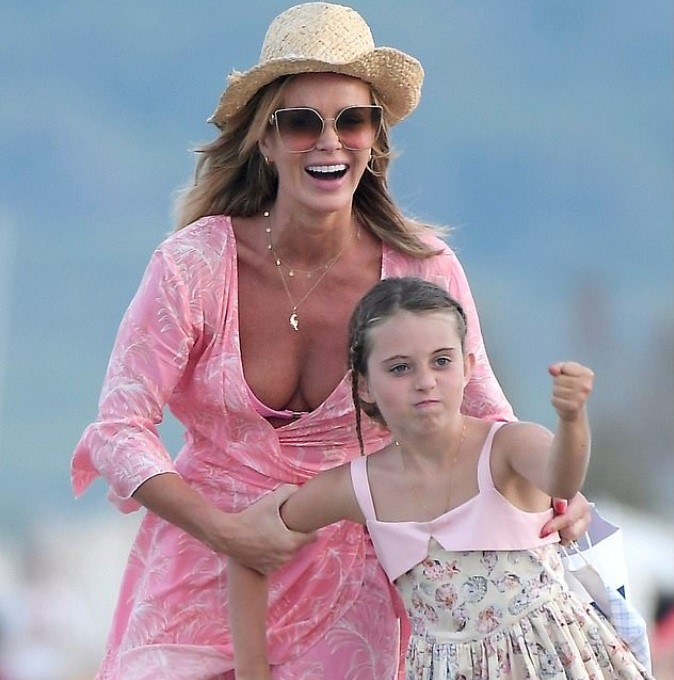 Amanda looked absolutely radiant in a stylish pink patterned wrap dress, complemented by a chic straw hat. After a leisurely boat ride with her loved ones, she disembarked, showcasing her impeccable style and elegance.

Earlier that day, Amanda and Piers Morgan indulged in a spirited lunch, sharing lighthearted banter about Piers going unnoticed by fans.

Amanda shared a delightful picture of the two on Instagram, humorously captioning it: "Thrilled to be known and asked for a photo from these lovely children from the Netherlands and the photographer @piersmorgan (no clue who he is @bgt)."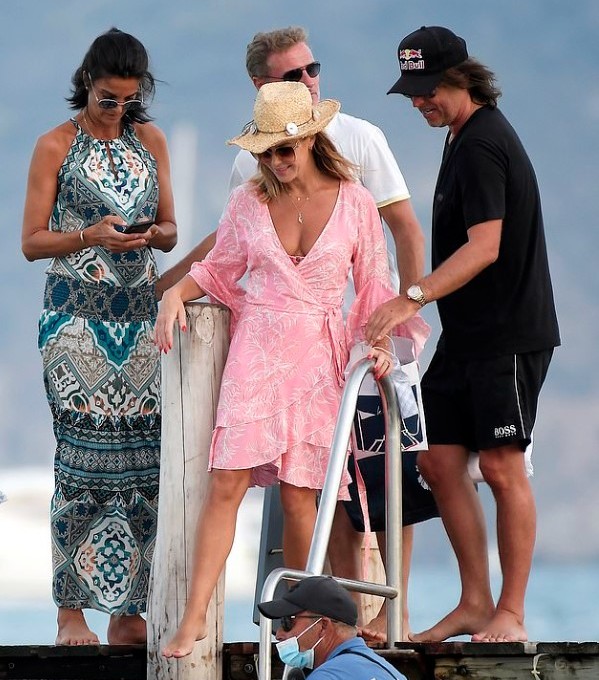 The sun-kissed beauty looked resplendent in her pink wrap dress, radiating vacation vibes.

During the lunch outing, Amanda was accompanied by her husband, Chris Hughes, and her daughters, Hollie and Lexi. Piers Morgan was in the company of his three sons, Spencer, Stanley, and Bertie.

Amanda also shared another heartwarming family photo from the vacation, captioning it: "Ma famille #photo."

In recent weeks, Piers and his sons enjoyed lunch with Hollywood legend Joan Collins during their vacation.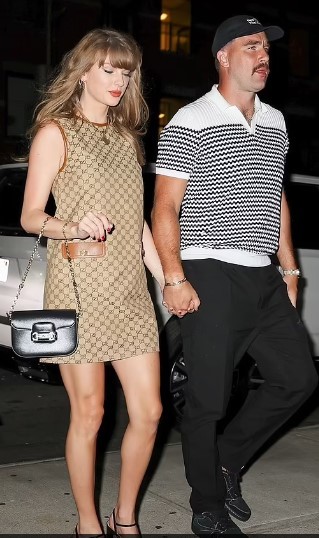 Amanda Holden has been actively sharing glimpses of her holiday on her social media. She was seen flaunting her svelte figure in a Melissa Odabash bikini while relaxing on a pool float shaped like enormous wings.

After wrapping up her work on Friday afternoon, Amanda wasted no time and jetted off to this glamorous yet undisclosed sunny destination with her family. Her holiday posts, including one featuring her in a leaf-print dress enjoying a glass of rosé wine, have been captivating her followers.

In one of her recent Instagram posts, she captioned a picture of herself gracefully balanced on the pool float with the words: "Winging it," along with the hashtag "inflatables." Amanda's poolside pose exudes a magazine-worthy aesthetic, with the bright blue pool waters serving as the perfect backdropp for her leisurely vacation.
Amanda Holden continues to charm her fans with her enviable holiday adventures, showcasing her timeless beauty and captivating style.

Amanda Holden Continues to Charm Fans with Enviable Holiday Adventures
Amanda Holden is one of the most beloved and glamorous celebrities in the world, and her fans are always eager to see what she's up to next. Whether she's hosting a hit TV show, gracing the red carpet, or enjoying a well-deserved vacation, Holden never fails to impress.
Recently, Holden has been enchanting her fans with her enviable holiday adventures. She's been spotted jet-setting to exotic destinations, soaking up the sun on pristine beaches, and exploring new cultures. And of course, she's been doing it all in style, with her signature sense of fashion on full display.
From her stunning bikini snaps to her chic vacation outfits, Holden has been proving that she's a true fashion icon. She's also been showing off her timeless beauty, with her radiant complexion and ageless figure.
Holden's holiday adventures are the perfect inspiration for anyone looking to plan their next getaway. She's proving that it's possible to have it all: stunning scenery, luxurious accommodations, and endless opportunities for relaxation and fun.
But what makes Holden's holiday adventures so special is her genuine joy and enthusiasm. She clearly loves to travel and experience new things, and her infectious energy is contagious. Her fans can't help but be drawn to her positive attitude and her zest for life.
So if you're looking for a little bit of sunshine and inspiration, be sure to follow Amanda Holden on her holiday adventures. She's sure to brighten your day and give you some serious travel envy.
Here are some specific examples of Amanda Holden's recent holiday adventures:
In January 2023, Holden shared a series of photos from her luxury vacation in Mauritius, where she stayed in a stunning beachfront villa. She was spotted soaking up the sun on the beach, swimming in the crystal-clear waters, and enjoying delicious cocktails.
In August 2023, Holden took a trip to Italy, where she visited the iconic cities of Rome, Florence, and Venice. She shared photos of herself exploring the ancient ruins, visiting world-famous museums, and enjoying delicious Italian cuisine.
In September 2023, Holden headed to Spain for a family vacation. She was spotted spending time with her husband and two daughters on the beaches of Ibiza, where they enjoyed swimming, sunbathing, and exploring the island's charming villages.
Amanda Holden is living her best life, and her fans are loving every minute of it. Her holiday adventures are the perfect reminder that it's important to take some time for yourself and enjoy the finer things in life.