Amanda Holden Turns Heads in Heart FM Studios with a Sizzling Leather Midi Dress
Her charismatic personality, sense of style, and commitment to healthy living make her a beloved figure both on and off the airwaves. In this in-depth exploration, we delve into the elements that make Amanda Holden an enduring icon of grace, fashion, and well-being.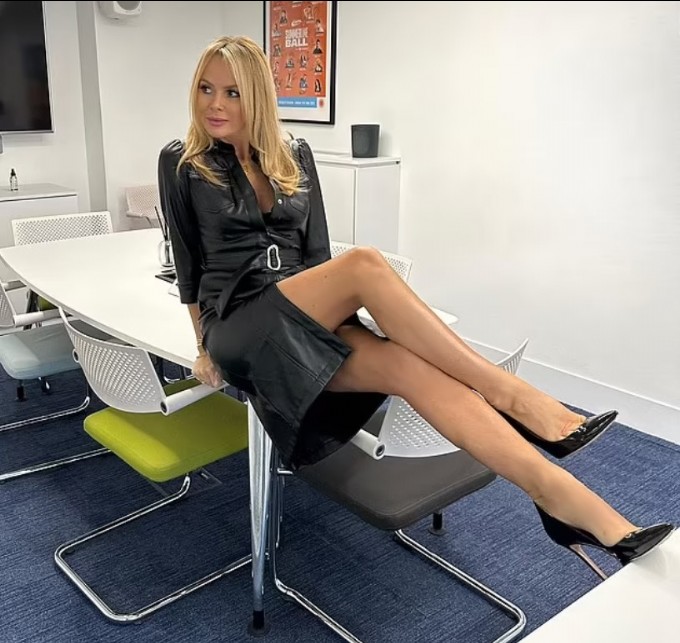 The Leather Midi Dress: A Bold Fashion Statement

Amanda Holden has long been celebrated for her impeccable sense of fashion, and this occasion was no exception. The 52-year-old star stepped into the Heart FM studios, turning heads with a stunning leather midi dress. This black leather ensemble is part of her Lipsy London collection, and it's a testament to her ability to make a bold and unforgettable fashion statement.

The striking choice of a leather midi dress showcased Amanda's enviable legs, capturing the essence of her timeless style. Amanda Holden's fashion choices have consistently demonstrated her confidence and grace, and this ensemble was no different. The choice of a midi dress added a touch of elegance to the look, making it a versatile and eye-catching choice.

Amanda's attention to detail in her outfit was evident in the chic belt she wore. This belt, with a unique and playful buckle, was not just a practical accessory but also an element of style. In a moment of fun and daring, Amanda decided to undo the belt, offering a glimpse of her lace bra. Her playful comment on the belt in a video shared with her impressive 2 million Instagram followers reflected her charming sense of humor: "I love the detail on this belt, a little wobbly belt buckle, and of course easy access."

To complete her captivating look, Amanda Holden chose matching stilettos that not only enhanced her height but also added a level of sophistication to her overall appearance. As always, her choice of accessories was subtle and elegant. Dainty gold jewelry, strategically chosen, added a touch of luxury and refinement, accentuating the allure of the outfit.

Amanda Holden's ensemble on this day was more than just a fashion choice; it was a reflection of her confidence, elegance, and the ability to command attention effortlessly. Her fashion sense continues to set trends and make a statement, and it's a testament to her status as a style icon.

A Glimpse into Amanda's Lifestyle and Health

In a recent exclusive interview with MailOnline, Amanda Holden offered a unique perspective on her lifestyle and health. Beyond her role as a prominent presenter, Amanda is admired for her dedication to a healthy and balanced lifestyle. The interview shed light on her approach to well-being, including her diet, exercise, and philosophy on moderation.

One noteworthy aspect of Amanda's lifestyle is her vegetarian diet. As a vegetarian, she emphasized her commitment to a diet that aligns with her values and personal choices. Vegetarianism, for Amanda, is not just a dietary preference but a way of life.

The interview also revealed Amanda's love for an Aperol Spritz. While she acknowledges the importance of detox and moderation, she humorously admitted to enjoying an Aperol Spritz once a day. This revelation provides a glimpse into Amanda's realistic approach to healthy living. Her philosophy revolves around balance, and she believes in enjoying life's pleasures in moderation.

Amanda Holden's candor is refreshing, especially in a world where extreme diets and rigid restrictions often dominate discussions of health. Her down-to-earth perspective resonates with many, offering an alternative narrative that embraces life's joys while maintaining a healthy lifestyle.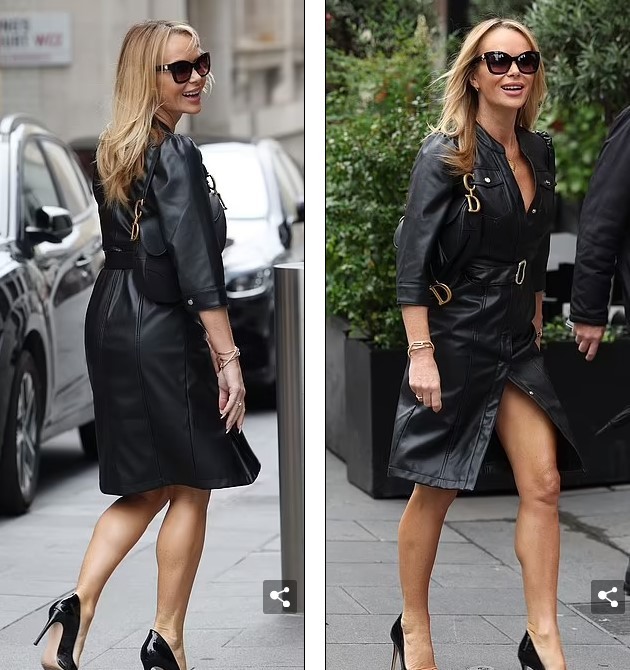 In her own words, Amanda shared, "After lockdown we have all been told what to do so much and put so many restrictions on ourselves, and in life we are so restricted and have to mind what we say and do all the time so take your pleasure where you can get it and if that's in a bottle of rosé then do it. You can take your vitamin B with a glass of red, you can."

Her emphasis on enjoying the simple pleasures in life while maintaining balance is a testament to her relatability and her ability to connect with her audience. Amanda Holden's perspective on health and well-being is a refreshing take on the often complex and restrictive world of fitness and dieting.

Embracing the Joy of an Active Lifestyle

In addition to her dietary choices, Amanda Holden shared her approach to maintaining an active and healthy lifestyle. She candidly admitted that traditional gym workouts were not her preference. However, she stressed the importance of getting outdoors for activities like power walking.

Amanda's approach to fitness is characterized by its simplicity and accessibility. She has a fondness for power walking, which she described as a highly effective way to boost her mental health. The act of stepping out of her house for just half an hour can work wonders for her well-being.

While Amanda used to practice yoga and had a personal trainer, her demanding schedule has shifted her focus towards running. Running is not just a physical exercise for her; it's an essential mental escape. She values the solitude and time for reflection that running offers. It allows her to think, enjoy her favorite music, and breathe in fresh air.

Her approach to exercise is pragmatic, emphasizing the importance of finding activities that one enjoys and that contribute positively to mental well-being. Her dedication to staying active is a testament to her holistic approach to health, combining physical activity with a focus on mental wellness.

Amanda Holden's views on exercise and well-being underscore the idea that there is no one-size-fits-all approach to health. Her ability to integrate enjoyable activities into her daily life is an inspiring example of how maintaining a healthy lifestyle can be both accessible and enjoyable.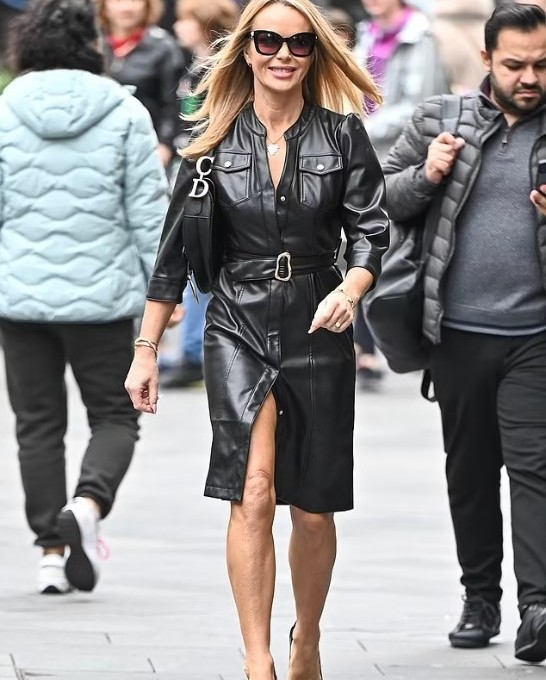 The Elegance of Balance and Realism

Amanda Holden's approach to life, health, and fashion is characterized by balance and a refreshing realism. In an age of extreme diets and fitness trends, her candor about enjoying life's pleasures while maintaining a healthy lifestyle is a welcome perspective.

She reminds us that true well-being is about finding what works for you, and that it's perfectly acceptable to enjoy life's simple pleasures. Amanda's commitment to balance and her dedication to embracing the joy of an active lifestyle offer valuable insights into living a fulfilling and authentic life.

While her fashion choices may set trends, Amanda Holden's lifestyle choices are grounded in her belief in the power of moderation and enjoyment. Her approach is a testament to the enduring allure of grace, style, and authenticity, making her an iconic figure in today's world.

Amanda Holden's recent appearance at the Heart FM studios served as a reminder of her unique charm, style, and charisma. Her fashion choices continue to captivate audiences, and her insights into health and well-being offer a realistic and relatable perspective.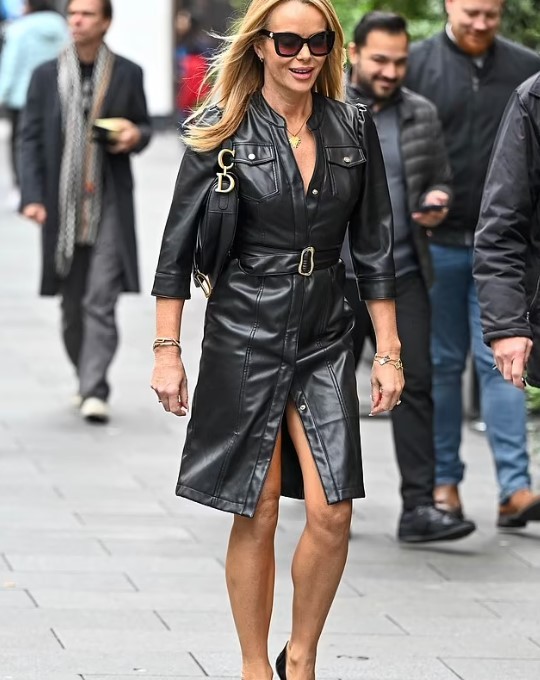 Amanda Holden's combination of confidence, elegance, and down-to-earth wisdom make her an enduring icon in an era marked by extremes. Her story reminds us that living a fulfilling life is about embracing what brings us joy, staying active, and finding a balance that works for us.

Amanda Holden's influence reaches far beyond the airwaves; it extends into the realms of fashion, lifestyle, and well-being, making her a beloved and inspirational figure for many.