Boyfriend 'SAWED Ukrainian model to death at luxury Bangkok apartment and then used Google Translate to help get rid of body
Alona Savchenko, 24, had checked into the Key Sathorn-Charoenraj hotel-apartment in Bangkok with her partner Jan Jerzy Lagoda-Filippow, 25, on April 29.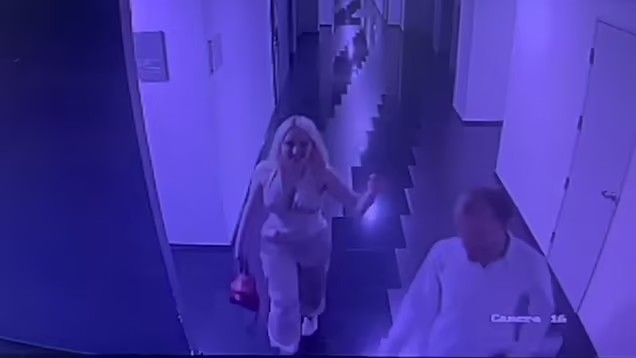 Lagoda-Filippow had an advertising business registered in Covent Garden in London's West End, and Ms Savchenko had previously done photoshoots for him.
The couple looked happy as they entered the hotel together and CCTV footage from the corridor shows the pair smiling as they walked towards their room.
But security guards became suspicious on the morning of May 15 when the Polish tourist left the building, alone and in a hurry, dragging his luggage with him and seeming very nervous.
Lagoda-Filippow flagged down a taxi, whose driver Surachai Sabaibang later called the hotel to inform them of the Pole's erratic behaviour after his passenger allegedly used the Google Translate app to ask for help cutting up a body.
CCTV footage of Lagoda-Filippow's exit from the hotel shows him shaking as he leaves the lift, lugging his suitcase behind him.
Following Mr Surachai's call, hotel staff went to check the couple's room on the 32nd floor where they found Ms Savchenko's carved-up body on the bed.
The young woman's face was covered in blood and her left hand had been cut off at the wrist.
Her head had also been partially severed with a deep slash from her neck to her left shoulder, and paramedics discovered she had also sustained a stab wound on her chest.
A 2ft-long saw lay coated in blood next to her body. Investigators believe Ms Savchenko had been dead for around a day before being discovered, suggesting she was killed over the weekend prior to Lagoda-Filippow's attempt to flee.
Police Lieutenant Colonel Pongpun Phonharn, from the Wat Phraya Krai district station, said: 'The victim arrived at the condo with her boyfriend on April 29, but he left without her at around noon on May 15.
'We learned that he had hired a taxi to take him to Sa Kaeo province. He was likely trying to cross the border to Cambodia.'
The driver said: 'I picked up the suspicious passenger, who told me through Google Translate that he wanted to play at a casino. When he could not find a suitable place to play, he then asked me through the app to help dismember his girlfriend's body for 1,500 baht ($44).'
Disturbed by the alarming request, Mr Surachai reportedly dropped Lagoda-Filippow off at a hotel in Bangkok's Sathorn district before calling the hotel he had been staying at.
Border officials were put on alert shortly after hotel staff discovered Ms Savchenko's body and on Monday evening Lagoda-Filippow was caught at the Aranyaprathet border checkpoint 135 miles away in Sa Kaeo province.
He was detained at the Wat Phraya Krai Police Station for interrogation while police informed the Polish Embassy of his arrest. Investigations are ongoing.
Police Lieutenant Colonel Pongpun Phonharn added: 'The suspect was very calm when he was arrested. It was about 4am this morning when he was caught.
'He drank coffee as normal in his cell and started exercising, like it was his normal morning routine. He did not say anything.
'We have contacted the Polish Embassy, and made arrangements for embassy officials to arrive later today.'